Welcome to Advantage Destination & Meeting Services, Inc.
ADVANTAGE Destination & Meeting Services, Inc. is a South Florida based full service Destination Management Company (DMC) located in Aventura/North Miami Beach. We are conveniently located midway between Miami and Fort Lauderdale airports as well as a short ride from Palm Beach airport. This allows us the opportunity to service corporate clients not only in South Florida but also Orlando to Naples to the Florida Keys. Advantage DMS executes corporate events throughout Florida: Miami, Miami Beach, Downtown Brickell, Coral Gables, Ft. Lauderdale, Hollywood, Boca Raton, Key Largo, Naples, Marco Island, the Palm Beaches, Tampa, Orlando, all the way up to Amelia Island!
Established in 1998, Advantage DMS provides clients with trusted regional expertise. Whether you need local support with a segment of your program or full implementation of multi-faceted meetings and events, you can rely on Advantage DMS's unparalleled attention to detail and flawless execution of your next Florida -- or anywhere -- meeting experience!
Advantage DMS is the preferred DMC at many of the finest hotels and establishments due to our high level of client service, long-standing vendor relationships, deep local roots and an unparalleled expertise for the areas we service.
Our goal is to provide our client's with peace of mind by offering the highest level of service for program coordination, management and implementation. We cover everything from Group Arrivals & Departures to Hospitality Staffing to Interactive Tours & Guest Activities, Teambuilding & CSR, Entertainment and Décor for Welcome Receptions & Awards Galas. We also offer the creative services or our own In-house Production & Design team to create and conceptualize the customized look you envision for your program's events. Advantage DMS's services run the full spectrum of all your Corporate Meeting, General Session & Incentive Trip needs.
Advantage is the only chartered, Accredited Destination Management Company (ADMC) in Florida. We have a full-time staff of Destination Management Certified Professionals (DMCPs) across ALL departments: Sales, Operations and Production & Design. We are immensely proud of our team's dedication to adhere to the correct processes and procedures a leading DMC should follow based upon the DMCP procurement process. Advantage DMS boasts the most full-time DMCPs under one roof of any single DMC office in the country!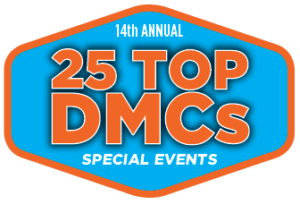 Advantage DMS is extremely proud to be recognized as one of the "TOP 25 DMC" for 2018 by Special Events Magazine. This makes it SIX CONSECUTIVE YEARS (2013, 2014, 2015, 2016, 2017, 2018) that we have received this distinction for a total of SEVEN TIMES since Special Events Magazine first started publishing their "25 Top DMCs" List. This acknowledgement is given to the best DMCs in the world for providing Excellence in DMC Services, the range and Scope of Client Services provided, and number of Top Volume programs executed annually.
We pride ourselves in our ability to meet and exceed your expectations for the past 20 years!